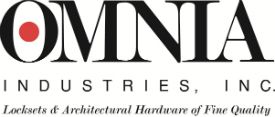 Omnia hardware has over 50 years of experience manufacturing the finest in door and cabinet hardware. Omnia has established itself as a stylish hardware brand with exceptionally functional features. Omnia takes great pride in innovating new products, designs, and features. Its products are often replicated, but never duplicated with the quality Omnia offers. The majority of Omnia hardware is found in residential homes, but can also be found in commercial buildings all over the world. Luxury apartments, offices, hotels and other commercial buildings not willing to compromise on quality or function feature Omnia hardware
The Ultima Collection by Omnia is a modern set of cabinet hardware, designed to reflect contemporary styles for kitchen and bathroom cabinets. Omnia Ultima knobs and pulls feature clean and simple details to create the ultimate contemporary hardware.
Omnia Stainless Steel Collection
The Stainless Steel Collection from Omnia features a line of products that will give any room a modern and clean look. The robust stainless steel finish will prevent any tarnishing or rust.
Omnia Classic&Modern Collection
The Classic&Modern Collection by Omnia includes a vast variety of variations of cabinet hardware, designed to not only fit in contemporary style, but also rustic kitchen and bathrooms.
Omnia Warranty
Omnia cabinet hardware is constructed with premier materials, and every effort is taken to ensure its products will stand the test of time. To stand behind its products, Omnia offers a one year warranty against defects in workmanship and materials for products installed in normal installations.