About Weslock

The Hilgren family founded Weslock door hardware in California in 1932. Willing to go above and beyond the competition, Weslock offers the only Grade II cylindrical door locks in the residential market. Not only is it strong, but Weslock's door hardware is built to last for years. If security, safety, and style are important to you, then Weslock is your choice for quality door hardware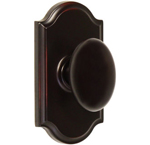 Weslock's door hardware includes all metal parts, ease-of-installation, ease-of-keying, and panic-proof -privacy -locking. Their hardware is designed for quality and features concealed installation screws, removable knobs and levers, dual spindles, and removable rosettes. With Weslock's "Panic-Proof" mechanism you can easily exit the home in the event of an emergency. This safety- minded locking solution also prevents lockouts and is ADA recommended.
Featured Weslock Door Hardware
Weslock's Keyed Entry door hardware use a 5-pin keyway, and meet ANSI Grade II lock standards. Keyed entry locks are typically used for front doors or any door leading outside the home.

Weslock's Privacy locksets work just like the keyed entry sets, but you don't need a key to unlock them from the outside. Privacy locks are generally used on bedroom or bathroom doors.

Weslock's Passage door sets are non-locking. These are great for hall doors or closet doors that do not need to lock, but a latching mechanism is still required.
Weslock's Single Dummy sets are non-functioning fixtures that are mounted to the surface of the door. They are commonly used on doors that do not need a latching mechanism, like, for example, the non- latching side of a French door.
Weslock is one of the premier door hardware manufacturers with products built to last through years of use. Weslock offers superior quality products, a broad selection, and competitive pricing. Find your Weslock door hardware locksets at HandleSets.com.